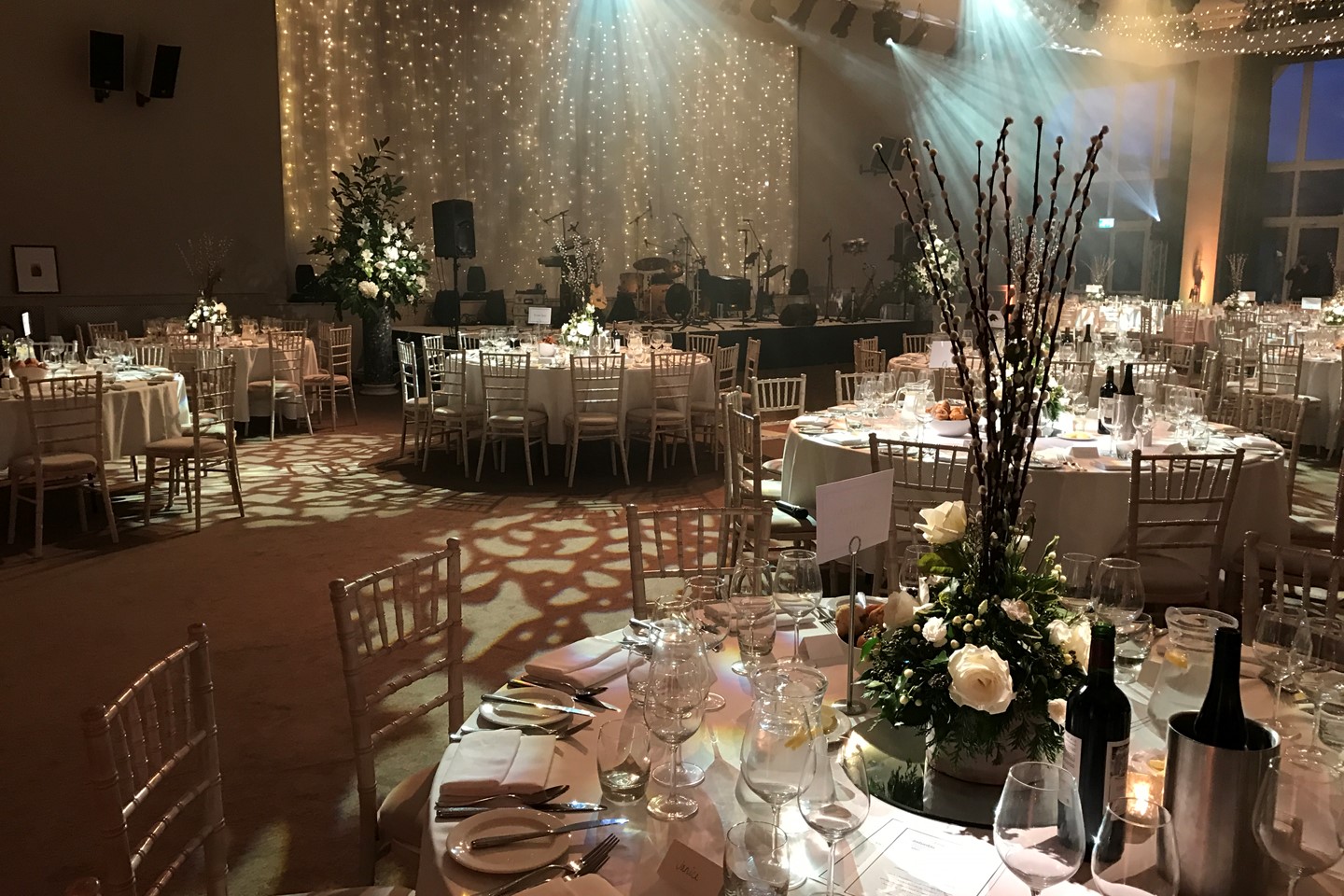 Reception
The Garden Rooms are beautifully designed to provide the space, grace and splendour your wedding day deserves. Our versatile and flexible rooms can be set to accommodate intimate smaller parties or can be brought together seamlessly as one amazing space for up to 650 guests.
THE GARDEN ROOM (up to 320 guests)
The largest of our individual spaces has breath-taking high ceilings and French chateaux inspired crystal chandeliers, a mix of traditional décor and state of the art sound and lighting facilities. Your guests will be in awe at the size and scale of The Garden Room. Its purpose built stage makes it perfect for live music and DJ's to entertain your wedding party.
THE VERSAILLES ROOM (up to 90 guests)
The Versailles Room continues the French theme with crystal chandeliers reflecting into striking gold mirrors. The high ceilings and sense of space continues throughout all of the rooms giving stunning sense of scale.
THE FOUNTAIN ROOM (up to 80 guests)
Adjacent to the Versailles Room and Garden Room, The Fountain Room's heritage colours and high ceilings are the perfect canvas upon which to create your own unique and intimate atmosphere.
THE CLOISTERS (up to 100 guests)
The Cloisters draws on the designs used to build monastic houses which can be traced back to Roman times and are still found today in the hill top villages in Tuscany and amongst the rolling French countryside. The result is an atmospheric and secluded space that captures the essence of the Mediterranean; with warm rustic stone arches and open beams surrounding a sunny courtyard. In summer, beautiful plants and outdoor fountains complete the scene whilst in chillier months, fire pits and fairy lighting create an intimate feel your guests will love.
PRIVATE DINING (up to 40 guests)
For smaller parties, our completely self-contained Private Dining is an away-from-it space. Warm colours and contemporary furnishings are complemented by traditional pieces to create a relaxing atmosphere. The second floor outdoor terrace is a great place for al fresco drinks and taking in the Yorkshire scenery.
Wedding Enquiry Form
Congratulations on your engagement!
Please fill out the form below and a member of our events team will be in touch to discuss your requirements.
Alternatively if you wish to chat through your options with the team directly, please call 01969 621146.